slated for release in November 2002

summary
- Horror tale of insects which eat their victims from the inside
out.

- There's a scary buzz when a swarm of bloodthirsty flies not only go on a human-killing spree, but cause their victims to return as zombies.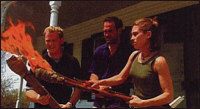 - tells the story of a group of old friends who came of age in the era of Reaganomics and Kajagoogoo, brought together by the tragic suicide of their old friend Steven who worked in a high security scientific laboratory. After the funeral, the friends stay the weekend at Carl and Robin's summer house. Everything seems fine for a weekend of "catching up" and emotional bonding...until the flies appear. The flies don't just sting-they fly into their victim's mouths and breed, inhabiting and controlling their bodies!
Director - Josh Olson
Writing credits - Josh Olson
Credited cast overview:
Zach Galligan .... Warren
Lisa Ann Hadley .... Ellen
Daniel Jenkins (I) .... Steven
Amy Jo Johnson .... Jesse
Nahanni Johnstone .... Mindy
Robert Duncan McNeill .... Eric
Jack Mulcahy .... Bob
David Packer .... Elliot
Camilla Overbye Roos .... Robin
Tuc Watkins .... Carl
Mark Margolis .... Father Morning