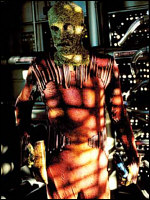 Cold Front
Production 011
11/28/2001

Synopsis:
Archer and his Suliban nemesis meet once again.
When the Enterprise comes in contact with an alien vessel transporting stargazers to observe a spectacular stellar event, Archer invites them aboard the ship not realizing that Silik, a Suliban enemy, is among them. Archer quickly realizes that Silik is engaged in a nefarious time-travelling mission and must stop him before he can tamper with the course of history.

Cast:
Scott Bakula as Captain Jonathan Archer
Connor Trinneer as Chief Engineer Charles Tucker III
Jolene Blalock as Sub-commander T'Pol
Dominic Keating as Lt. Malcolm Reed
Anthony Montgomery as Ensign Travis Mayweather
Linda Park as Ensign Hoshi Sato
John Billingsley as Dr. Phlox
Guest Cast:
John Fleck as Silik
Matt Winston as Daniels
Michael O'Hagan as Captain Fraddock
Joseph Hindy as Prah Mantoos
Leonard Kelly-Young as Sonsorra
Lamont D. Thompson as Alien Pilgrim
Creative staff:
Director: Robert Duncan McNeill
Written By: Stephen Beck & Tim Finch

Robbie on 'Cold Front':
"Cold Front' is the first Suliban episode since the pilot - the Suliban are going to become what the Borg were for Voyager.

Some questions are answered, but it's one of these episodes that doesn't have a real moral at the end, which was interesting for me to direct," he continued. "It's really more of a mystery and a thriller, it certainly has some things visually that we've never seen before in a Star Trek television show. There's going to be some really wonderful visual effects.

McNeill said that he enjoyed his time on the Enterprise set.
It was a lot of fun to direct, and Scott [Bakula] was great to work with. The cast was a lot of fun, but it was really a Scott show, a Captain show, kind of a suspenseful show."