Series Premise:

DAWSON'S CREEK, Columbia TriStar Television's triumphant dramatic series, continues to entice audiences as it enters its fifth season on the WB network. What began as a show branded racy and controversial by skeptics has since spawned a loyal following both nationally and internationally and a chart-topping soundtrack, and has become the standard in the teen-drama genre. Those currently suffering the pangs of adolescence and those who just enjoy the teenage turmoil continue to follow the lives of five recent high school graduates from Capeside, a small tourist town in coastal Massachusetts, as they face issues that today's teens encounter in their journey toward adulthood. A show that set out to capture that time of adolescent anxiety, sweaty palms and first kisses has since confronted issues including mortality, infidelity, homosexuality, discrimination, and betrayal.

DAWSON'S CREEK, which was created and developed by Kevin Williamson, ("Scream," "I Know What You Did Last Summer," "Teaching Mrs. Tingle") presents a surprisingly realistic portrayal of the growing pains of five individual teenagers. The series' setting in the small quaint town of Capeside was an aptly picturesque location to chronicle the continuing relationships of five high-school friends.
Cast:
James Van Der Beek as Dawson Leery
Katie Holmes as Josephine "Joey" Potter
Michelle Williams as Jennifer "Jen" Lindley
Joshua Jackson as Pacey Witter
Kerr Smith as Jack McPhee
John Wesley Shipp as Mitchell "Mitch" Leery
Mary-Margaret Humes as Gail Leery
Mary Beth Peil as Evelyn "Grams" Ryan
Nina Repeta as Bessie Potter
Episode # 504
"The Long Goodbye"
Air Date: October 31, 2001
Synopsis:
Mitch's untimely death affects all the former Capesiders in different ways. Dawson attempts to cope by channeling his energy into funeral arrangements and caring for Gale and Lily. But Dawson's grief is tainted by his conviction that Mitch died disappointed in his son's decision not to return to USC, and it's only a matter of time before his tough exterior begins to crack. Meanwhile, Pacey, Jen and Joey search for ways to help their friend through the toughest time of his life, and Joey's saddened when it seems she's the last person Dawson wants to talk to.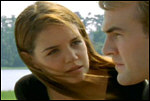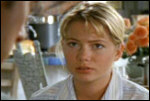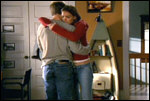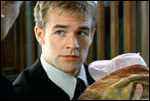 For more info: http://www.spe.sony.com/tv/shows/dawson/main.html